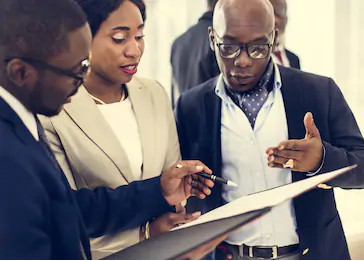 We are a collection of professionals encompassing a wide breadth of skills and experience. We offer a wide array of solutions in both services and constructions including but not limited to advisory, legal, energy, mining, infrastructure, logistics, and manufacturing.
Our main objective is Africa's sustainable development. In the process of reaching that goal, we will be creating opportunities, improving the quality of life, and advancing the place of Africa in the global trade and economy.
While we have developed synergistic partnerships with numerous international players, we aim to promote African businesses by sharing our know-how and removing entry barriers.
Our knowledge-sharing focus drives us to contribute to regional and Pan-African think-tanks geared toward coordinating efforts and resources, as well as standardization of policies and processes, resulting in a better business environment and sustainable development.
We provide large and small-scale solutions and maximize impact and efficiency by affecting processes, quality, and infrastructure.
Our services span from initial planning and investment, to launch and operations. We aim to connect pools of capital to sound opportunities and mobilize the technical expertise required to carry out the implementation of solutions